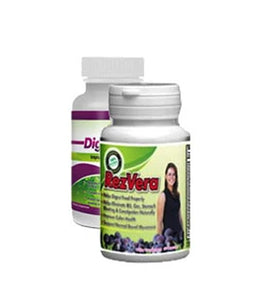 RezVera Digestive System Combo 
This is one of the best digestive system protection combo available in the market.
It is designed to work together by first using RezVera Advanced Stomach Protection to break down the toxins created by left over, undigested protein in your digestive system, then replenish your digestive system with high quality microflora from our RezVera Advanced Probiotic.
 The toxins created by left over, undigested proteins are usually the source of digestive system related symptoms such as bloating gas, constipation, diarrhea, acid reflux and etc. Our digestive system combo is designed to maximize your stomach protection against unwanted symptoms and improve your digestive system as a whole. 
 With improved digestive system, you will feel more energetic throughout the day and it will also improve your immune system.